If you spend much time following the LOORS, WORCS UTV series, King of the Hammers, or some of the big names in UTV racing equipment, then you have come across the name Guthrie. You've probably come across it a lot. Like at the end of every race. As in the podium list. In fact, the father/son team of Mitch Guthrie, Sr. and Mitch Guthrie, Jr. of Guthrie Racing have an accomplishment list longer than this interview. To highlight, it includes the podium in every KOH UTV race including five out of six 1st place finishes. Jr. also has dozens of top finishes in the Lucas Oil Offroad Racing Series and is now a strong competitor in the WORCS including being the 2013 WORCS Production 1000 Class Champion and he has a great start on the 2014 season. We caught up with the pair to see what makes them so successful.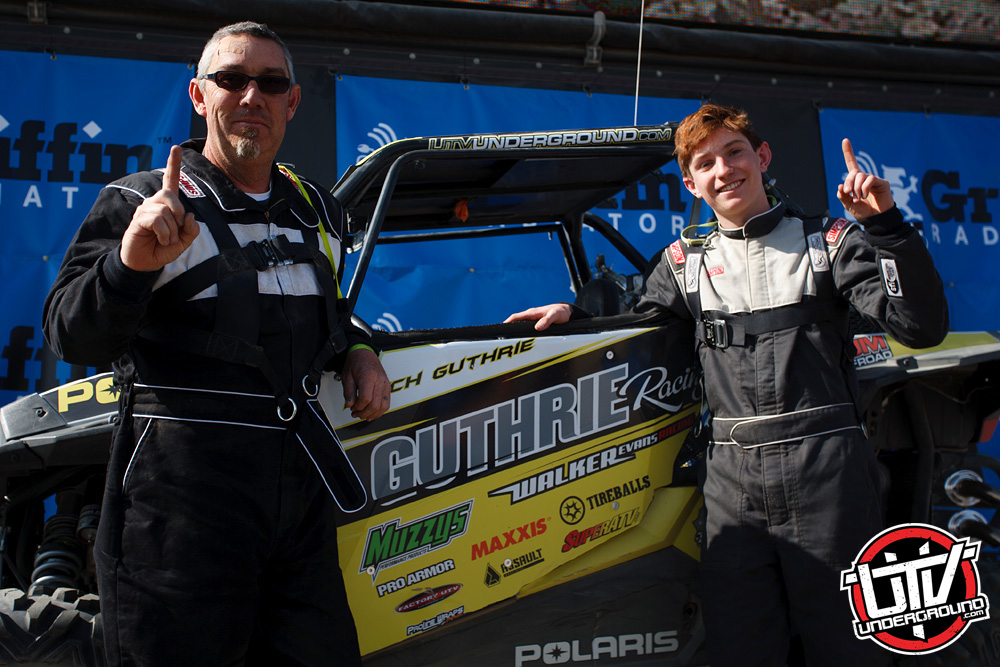 WeekendATV.com: What all offroad vehicles are in your collection?
Mitch Guthrie Sr.: We have two Polaris RZR XP1000's, a Polaris RZR XP900 and a Polaris Ranger 500.
WATV: You have both proven the Polaris RZR has what it takes to be successful in any racing series. What makes the Polaris RZR the best UTV?
Sr.: Durability
Jr.: Fast, comfortable and easy to drive, and what my dad said.
WATV: What is the next challenge for the Guthrie Racing team? Have you considered the Dakar?
Sr.: No Dakar. We would like to try some desert racing in the future.
Jr.: I have run short course and WORCS racing and King of the Hammers. I would also like to try desert racing.
WATV: Supposing you ever have down time, how do you unwind?
Sr.: We go to the Colorado River and boat or take the Polaris cars out to the desert for fun. 
Jr.: I hang out with my friends from school.
WATV: Do you feel like you've "made it"?
Sr.: I like to think so. We have many great companies that support us. 
Jr.: I feel like we have accomplished our goals each year, but I want to keep moving up if possible.
WATV: You each race in several different series. How do you prepare differently for each one?
Sr.: We race two series; King of the Hammers once a year and all nine WORCS races. We prepare by having the best UTVs and the best equipment. We also are the only two people that work on the cars.
WATV: You two have set a strong example for family racing teams. What is the atmosphere in the cockpit like during a race like KOH?
Sr.: In the cockpit during the KOH race it's stressful for the first, I would say, 15 to 20 miles and then we get in a groove and have fun! 
Jr.: My dad likes to drive a little wild at first and then I remind him it is a long race. We actually talk and have fun!
WATV: Junior, do you have plans to compete against your dad in a future KOH?
Sr.: I don't like him driving in the rocks. But maybe someday. 
Jr.: No, I really don't like the rocks. I am getting more comfortable with them but I think it takes years to get good at going through them fast.
WATV: What's the first upgrade you make to an ORV?
Sr.: Seats and belts. 
Jr.: Definitely anything to do with safety.
WATV: Any shoutouts you would like to make?
Sr.: Thank you to all of our great sponsors. We could not do this without them: Polaris, Walker Evans Racing, Muzzy's Performance, Magnum Offroad, Nelson & Nelson Racing Products, UTVUnderground.com, Tireballs, Maxxis, SuperATV.com, K&N, FactoryUTV, Assault Industries and Pro Armor.
To keep a close watch on the growing list of top finishes follow the Guthrie's at https://www.facebook.com/pages/Guthrie-Racing/140061512724541#