If you know anything about ATV racing, then you know the name Chad Wienen. You can't even flip through your favorite ATV magazine without finding MANY advertisements about products that Chad races with or endorses like the FOX Chad Wienen Signature Series FLOAT 3 EVOL RC2 shocks. If EA Sports released an ATV racing video game, Chad would be the cover art. We caught up with the newly crowned 2013 AMA ATV MX National Champion. Here's a few things you might not know about the life of the circuit's best rider.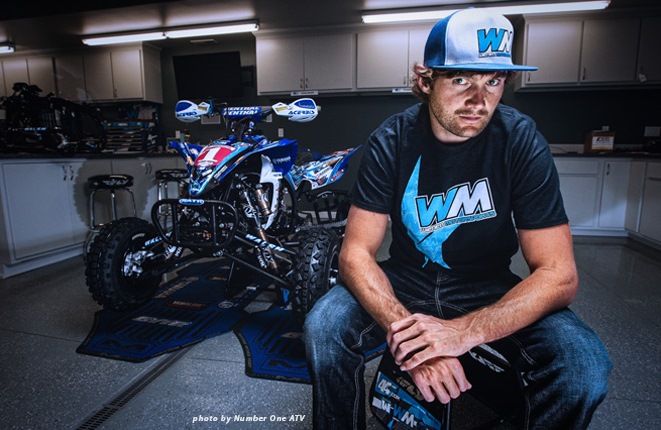 WATV: What ATVs or UTVs do you currently own?
Chad Wienen: I actually own a fleet of Yamaha YFZ450R's, a Yamaha Raptor 90, a Yamaha Grizzly, and every machine I raced during my Pro career: Honda, Suzuki, Kawi and Can-Am. Along with my two Championship YFZ450R's from 2012 and 2013.
WATV: You started racing in 2006, got sponsored by a factory team in 2007,  and won the AMA ATV Pro National Championship in 2012 and 2013. To what do you attribute your huge success?
CW: I actually turned pro in 2006. I would have to say a strong will to win and also all the support that I have had along the way to get me over all the ups and downs along the way.
WATV: When it's not race weekend what is your favorite type of riding and where do you go?
CW: Riding at my track at home or going to Sunset Ridge MX (Walnut, IL) for a weekend of riding.
WATV: You've had so many great accomplishments and records in ATV racing. Which one means the most to you?
CW: Last season breaking the most consecutive race wins in a season. 7 overall wins in a row.
WATV: What do your pre-race and post-race meals consist of?
CW: I eat eggs in the morning and a small sandwich during the day. Usually a hearty meal for dinner full of protein to recover.
WATV: What would we find on your MP3 player?
CW: MP3, this is the new age (laughs). iPod would have anything from some Greenday to Metallica to 3 Days Grace to Imagine Dragons.
WATV: What 5 words describe you?
CW: Relentless, determined, never give up.
WATV: Outside of racing, where are we likely to find you spending your time?
CW: Golfing, training, swimming, and hanging with friends and family.
WATV: What's next for Chad Wienen? Is ATV racing a stepping stone to something else?
CW: Next is building a business and staying within the sport. Possibly something else…
WATV: Freedom of speech, anything else you would like to say?
CW: Thank you for the interest and ride fast and safe. (If you) need anything for your racing needs check us out at http://www.wienenmotorsports.com.
Chad, thanks for slowing down for a moment to catch up with us. Best of luck to you in the 2014 season and with the continued success for Wienen Motorsports.
To see more about Chad check out http://www.wienenmotorsports.com or follow him on the AMA leaderboard at http://atvmotocross.com/. Just look at the top of the list.