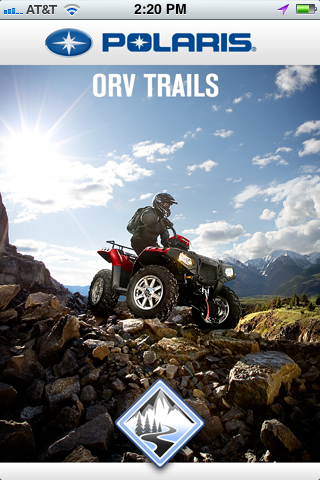 Recently, Polaris Industries released an app for Apple and Android devices. ORV Trails is one of a suite of apps created by Polaris that includes Indian Rides and Victory Rides for the streets, and Polaris Snow Trails. The app includes several handy features like live GPS tracking of your venture, weather conditions, waypoint placing and locating local services.  Here is the full feature list from the iTunes store:
– display your current location
– view maps of US ORV trails
– view weather conditions and advisories for any US location
– find and contact Polaris dealers
– local services search with integrated direct dialing, including gas stations, restaurants and lodging
– save waypoints along your route
– track and save multiple ORV routes
– automatic map caching so maps can still be viewed while on the trail and outside of data coverage areas
– multitasking on iOS4 for route tracking in the background
– share saved routes to Twitter or Facebook
– export route data in GPX or CSV format
Admittedly, most of these aren't particularly new items. Most smartphones have built-in maps, GPS, weather and can easily locate the nearest fuel, food and lodging. There are also apps for tracking our routes and adventures. However, there are few options that combine all of this info in one convenient app that is directly targeted at riders like you. As a bonus, there are thousands of trails already posted in the app. It also provides a unique method for mapping areas you may often ride, but have trouble seeing in full due to tree cover. The ability to place waypoints is a great feature too. Think "great hunting spot" or "great view from here". The number of uses is endless and certainly not limited to ATVing.
Perhaps the best thing about the Polaris ORV Trails app is that it's free. To be completely honest it would have to be a really bad app to get a poor review when it's free. However, there isn't much negative to say about the Polaris ORV Trail app.  The app is available for Apple devices and Google Android devices. There is also a PC desktop version. More details are available here:
Polaris: http://www.polaris.com/en-us/Corporate/Pages/polaris-apps.aspx
Apple Devices: http://itunes.apple.com/us/app/orv-trails/id493558794?mt=8
Android Devices: https://play.google.com/store/apps/details?id=net.weathernation.mobile.orvtrails&hl=en