One of the major trends in the accessory market is LED safety whips. Many parks, especially sand dunes, require safety flags elevated high on whips to make riders more visible coming over a dune or hill. Changes in technology have allowed LED whips to become more visible than flags as the lighted whips are akin to light sabers hanging off the rear rack. Riding areas open after dark look like a sci-fi movie as neon colors dash through the dunes and trails. So we contacted Gorilla Whips to try out the Gorilla Whips LED Xtreme Whip.
While there are several companies producing LED safety whips, Gorilla Whips are unique. Instead of purchasing a dedicated color, the Gorilla Whips LED Xtreme Whip has 20 different colors built-in. An inline remote control allows you to cycle through the 20 colors to choose your favorite. Your final selection is remembered, even after you power off the whip, for the next time you turn it on. The inline remote also allows you to rotate through 19 different patterns. Instead of the whip just glowing a solid color it can flash, fade between colors and create a random light show. A final button acts as the on/off button and can change the speed of the selected pattern.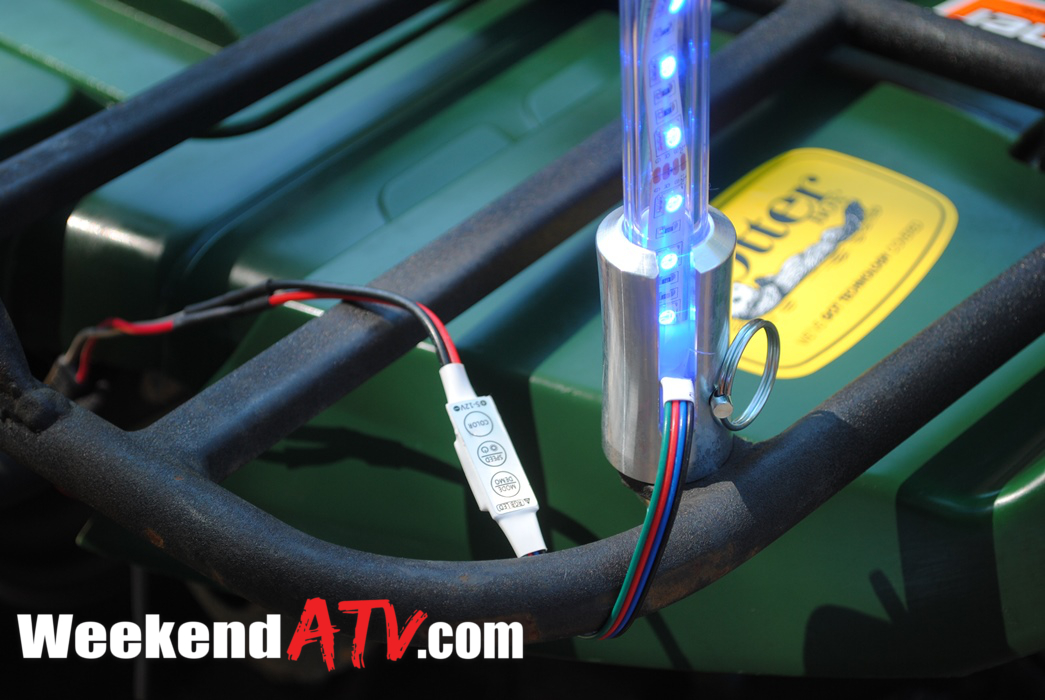 If you purchase a Gorilla Whips LED Xtreme Whip you will receive the whip, your selected flag, a wiring harness with a quick-release, quick connect wire splices, the billet aluminum whip mount and its mounting hardware. Installation is simple enough that instructions are not included but they do have an installation video on their YouTube Channel at http://youtu.be/cSTf2WX3X8M. The billet aluminum whip mount is bolted to the mounting hole that your ATV likely already has on the rear rack or grab bar. This whip is inserted snuggly into the mount and secured with a quick release pin. The wiring harness is then assembled and connected to the battery or other power source. That's it. The wiring harness on the battery side is the same as most trickle chargers meaning quicker installation if you have a trickle charger already.
The Gorilla Whips LED Xtreme Whip is available in 3′, 4′ and 6′ lengths. Our 6′ model contains over 215 super bright LEDs. While we're not able to compare the Xtreme Whip's brightness to its competitors, Gorilla Whips backs their claim in their stronger, brighter, better guarantee. And if you manage to break it you can receive a discounted or even free replacement with their crazy crash guarantee. We did experience an issue where a small segment of the LEDs in our whip would flicker or not work at all. Gorilla Whips replaced it at no cost.
The Gorilla Whips LED Xtreme Whip carries a price tag of $119, $129 and $139 for the 3′, 4′ and 6′ lengths respectively. That puts them in the higher price range compared to others, but again, you aren't locked into a single color or pattern making them an incredible value. Their newest model even has a wireless remote control. Gorilla Whips also offers standard ATV whips and replacement parts. To order your own check out http://www.gorillawhips.com.