Like any new ATV owner, we want to protect our investments and make sure they last as long as possible. So we were very excited to see the team at Ricochet Offroad Armor had released a full protection kit for the 2014 Honda Rancher 420. Since Honda has the Rancher sporting a new frame the Ricochet team had to go back to the design phase and update their catalog. The end result is a seemingly bullet-proof set of Ricochet Offroad Armor Skid Plates.
The complete protection set from Ricochet includes a full frame skid plate with bash plate, A-Arm guards and a rear diff skid plate. This means that basically everything on the bottom of your ride is protected from the worst terrain you can find. The kit is made of 3/16″ 5052 H-32 Aluminum. The included mounting hardware is mostly zinc plated T40 Torx bolts and unique clamps to hold everything to the frame. The complete set for the Rancher weighs in at 20.3 pounds.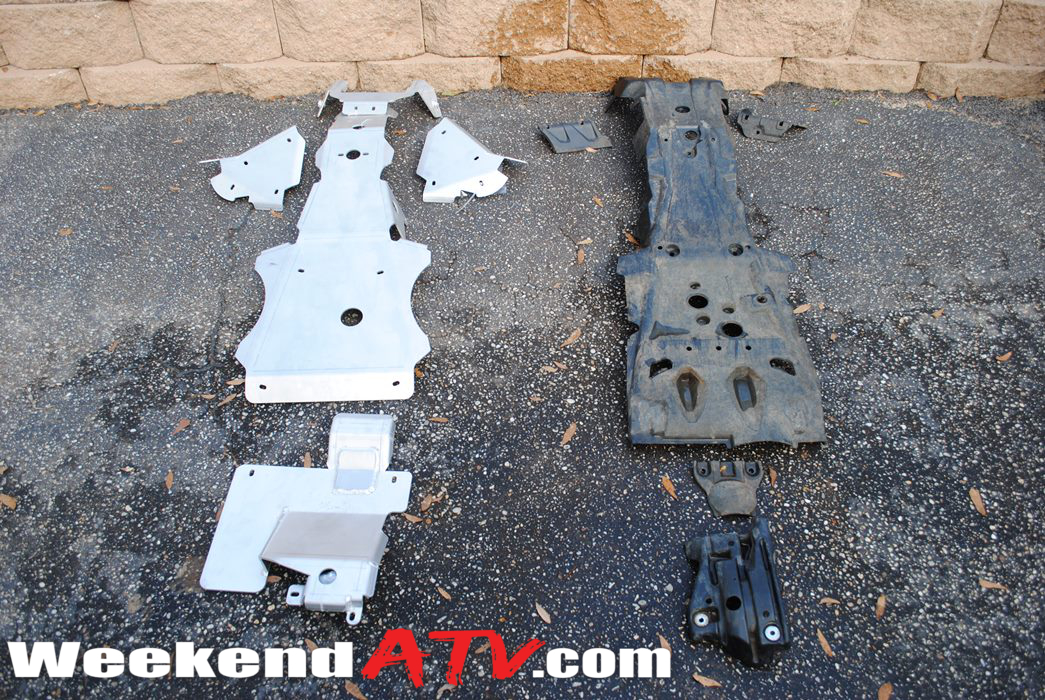 Installation is very easy. We ran our Rancher up a set of ramps on a retaining wall. You could also stand it up on the back tires and rack. Whatever you choose to do make sure you secure it to keep it from falling. The first step is to remove the plastic guards that your ride came with. You may appreciate your manufacturers efforts to keep cost and weight down but you won't be impressed by their end result. It's time to, as Ricochet says, "Armor Up!"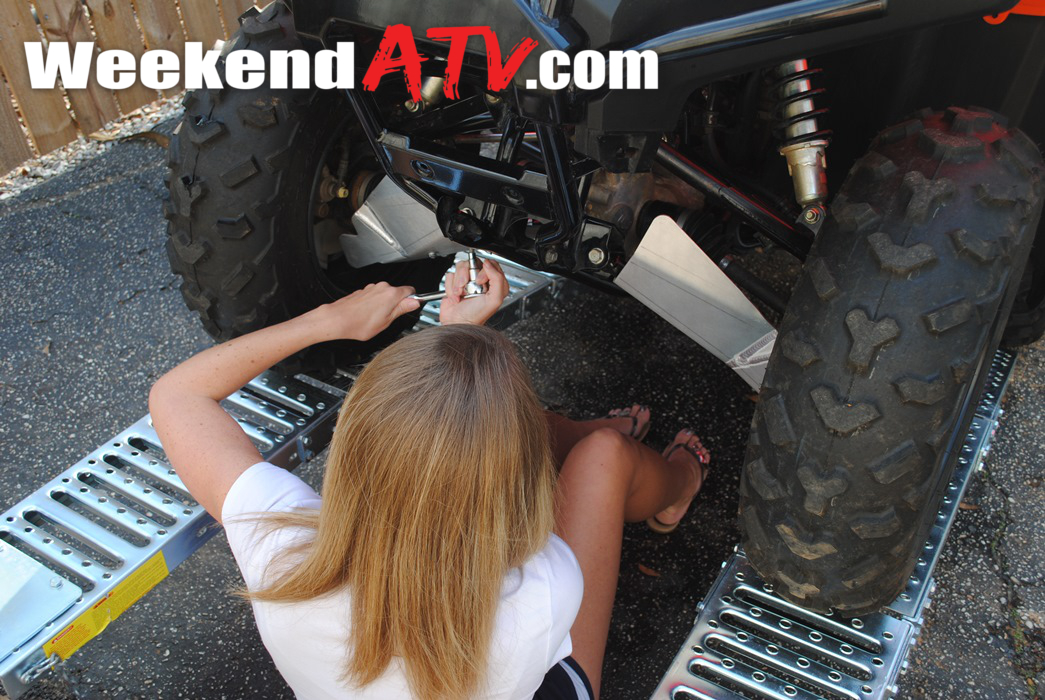 We started with the A-arm guards. The guards are held on by 3 clamp fittings over the A-arms. The clamps for your installation will vary based on the best fit for where on your frame they are going. With the A-arm guards be sure that you leave them loose to start so you can make the their placement is perfect. Too far in or out may cause undesired rubbing against your frame or wheels.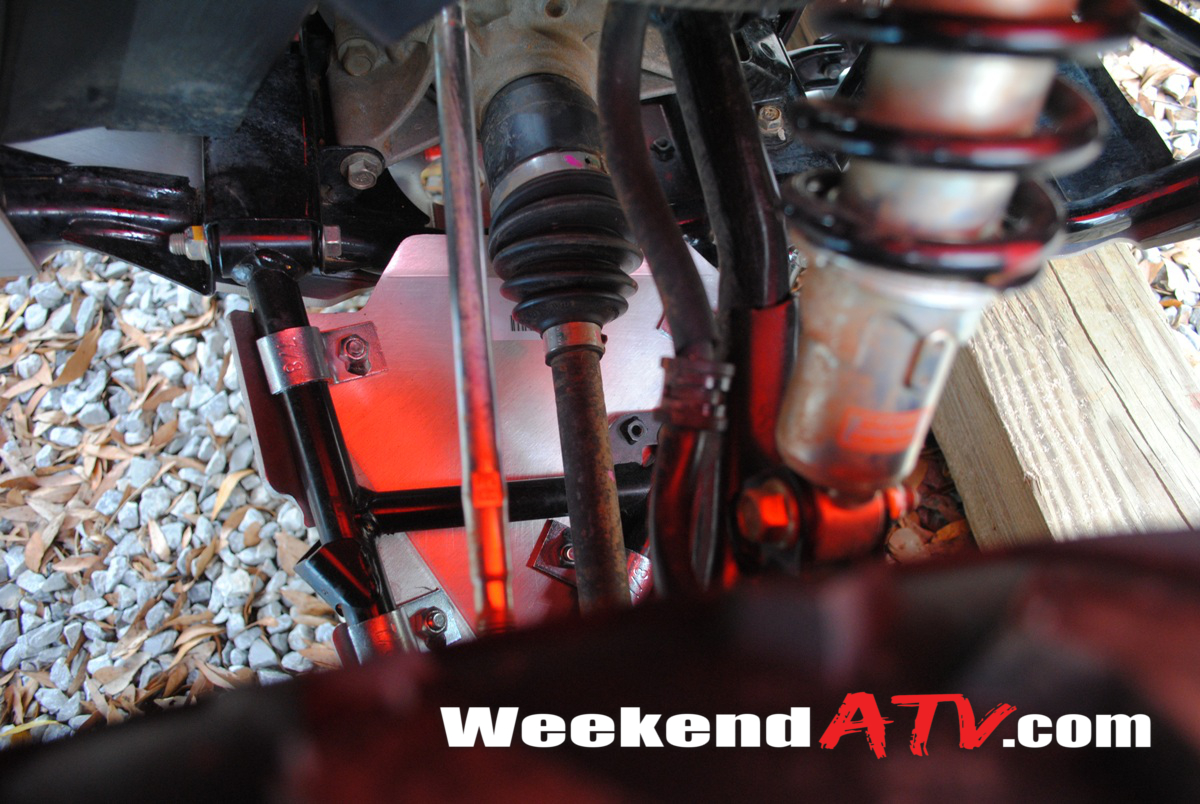 Next we moved to the full frame skid plate and bash plate. The skid plate also attaches primarily with clamps. Install it first and then the bash plate over it. You'll noticed the round head Torx bolts will hit a lot less than a standard bolt head or nut like the U-bolts found on other kits. The final piece is the swing arm/rear differential plate.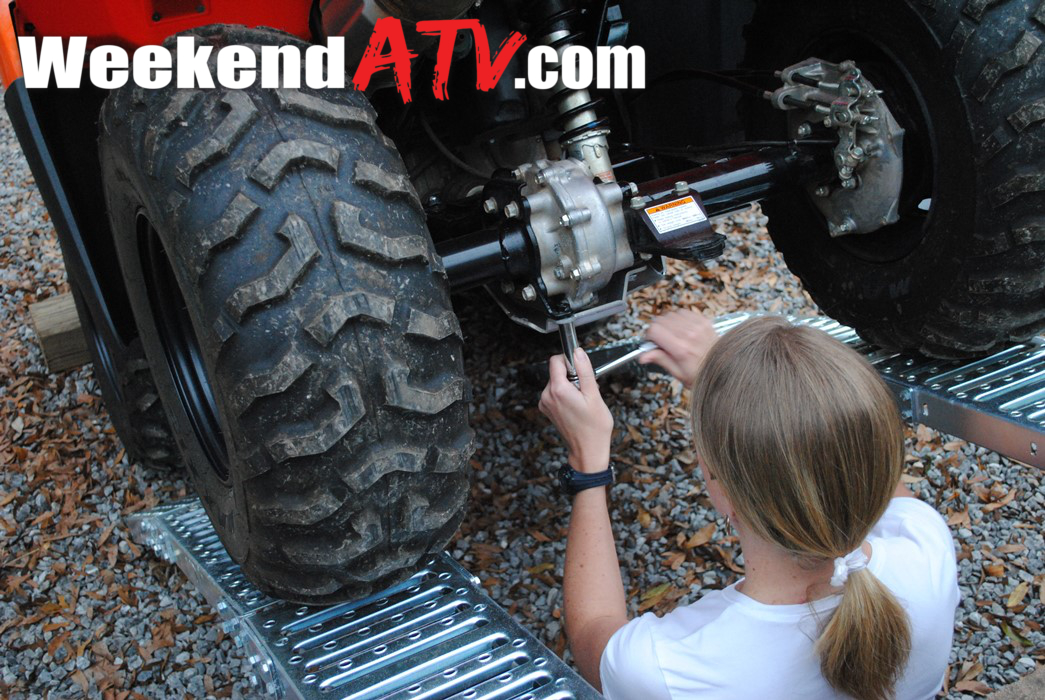 Besides the obvious protection to the frame, engine, front suspension and rear differential the skid plates offer a few more benefits in some terrain. While you may be losing the slightest amount of ground clearance you are gaining the ability to actually slide over obstacles that you might otherwise get hung up on. The plates create a more solid bottom layer allowing you to slid (skid) across downed trees, rocks and other objects that might otherwise leave you high-centered. Especially if you are going slower in fear of damaging your unprotected frame.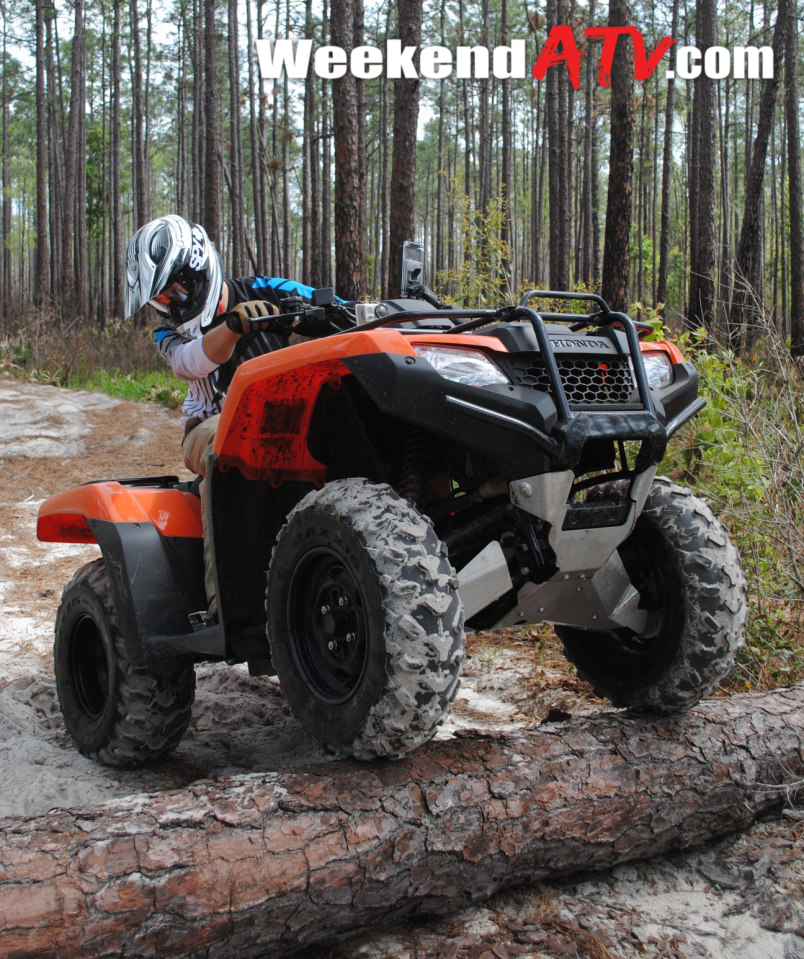 The complete 2014 Honda Rancher 420 kit carries and MSRP of $359. The sections can also be bought individually. Ricochet also released the kit for the redesigned 2014 Honda Foreman 500 which has a nearly identical kit needing only different A-arm guards. Compare the costs to replacing a few torn CV boots, bent A-arm or worse and the armor makes a great insurance policy. For an extra fee you can get the A-arms guard and bash plate or the full kit anodized in various color finishes.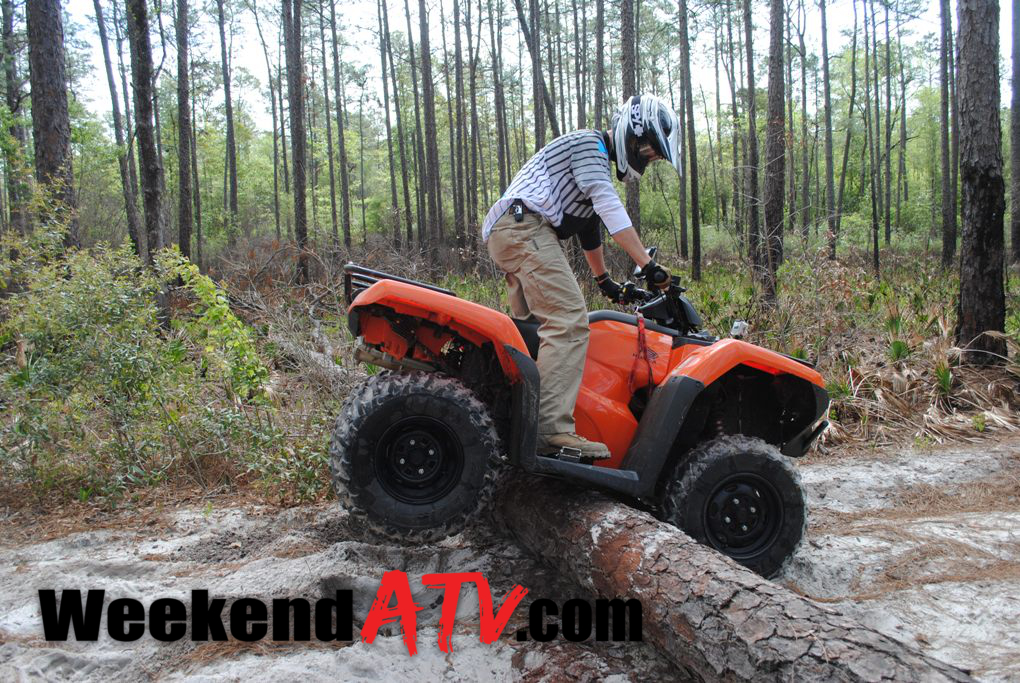 Ricochet Offroad Armor has been making armor sets for over 30 years. It's not unusual to see Ricochet armor on GNCC racer rides. Their catalog includes kits for dirt bikes, utility ATVs, sport ATVs, UTVs and the Toyota FJ, Tacoma and 4Runner automobiles. All armor comes with a lifetime hardware guarantee. To pick up an armor set and some peace of mind check out http://www.ricochetoffroad.com/ or call them at 866.273.1197.
Related Posts